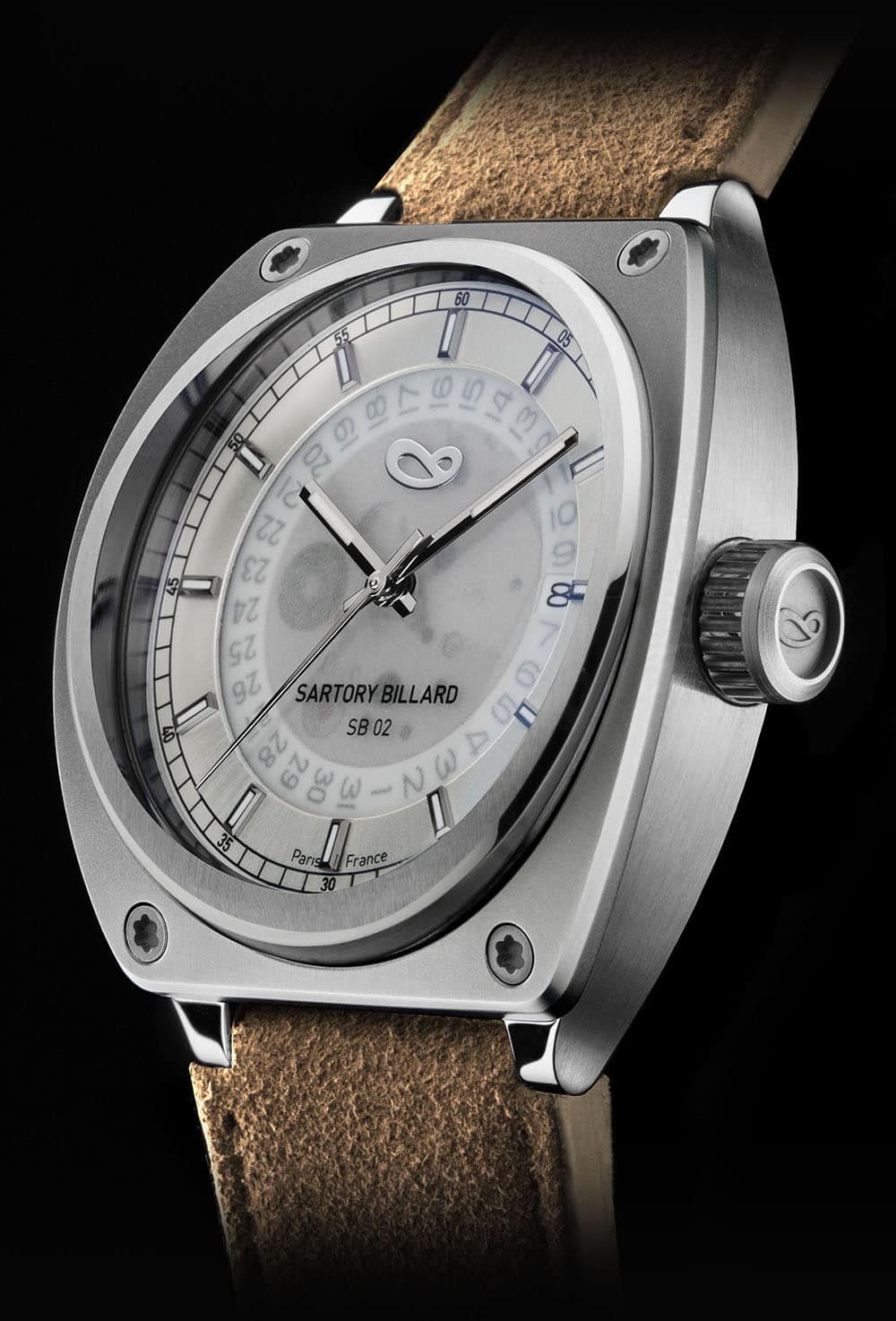 2017 : la SB 02
The second model we created retains the powerful DNA of the RPM01 and the shape so characteristic of the three-dimensional volute of the case associated with a domed sapphire crystal. This stylistic approach in volume, curves and counter-curves, makes homage to classic cars, whose design mixes visual pleasure and tactile pleasure, permanent invitation for the hand to caress the bodywork. In addition to this unique design, there is also an innovative concept unmatched in the market: the possibility to customize the watch by changing the upper part (the bezel) retained by 4 screws.
This collection is available in two colors of dials: Anthracite and Silver. With their "brushed sun" finishes, applied indexes and partial transparency revealing the motor – an automatic movement Miyota – animating the SB02, the style is classic and contemporary at the same time. The first 4 variations of removable upper part proposed are the following: Carbon / Brown Shell / Blue Ocean / Matte Steel.
SARTORY BILLARD is based in Paris and our models are imagined and designed in this city. The official authorization allows us to proudly inscribe Paris / France on the dial.
The components of the SB02 are produced in Asia by subcontractors known for their watchmaking know-how and are transported in separate parts in France. The SB02 continues its journey in Franche Comté, French watchmaking cradle, where it is fully assembled and carefully adjusted before joining Paris where it is presented to you.
2015 : la RPM 01
It's a devouring watch passion that has made us want to share our vision as creators. With the starting point of the adventure a simple desire: to create a unique and personal watch design. Thus was born our first watch in 2015, the SARTORY BILLARD RPM01. APEX is the apex of a corner, well known to race track enthusiasts, and RPM is the engine speed. The dial like a race car rev counter which ticks every second towards the red line, starting at 0, neglecting the first marks like a highly tuned engine. An aluminum flange, like the central nut of a race car wheel, circles the dial, red, anodised, as parts from a competition car should be.
The movement plate receives the same treatment and isn't hiding anymore, exposing itslef through the unusually oversized saphire glass, like some of the most beautiful engine supports. A limited and numbered series of 88 pieces with a unique aesthetic without compromise. A very high quality watch, animated by a Swiss movement, manufactured and assembled by recognized and qualified French craftsmen for a unknown result at this price level. The RPM 01 has been sold in France, Belgium, Morocco, Singapore and Japan.